Wat is alcoholverslaving?
Alcoholverslaving wordt ook wel alcoholisme genoemd. Alcoholisme kan gezien worden als een toenemende aandoening die vaak geleidelijk ontstaat. Mensen die alcoholverslaafd zijn beginnen vaak met een drankje voor de gezelligheid, maar naarmate de tijd verstrijkt neemt de frequentie van het drinken toe.
Uiteindelijk komt de persoon in kwestie tot het besef dat hij of zij niet meer goed kan functioneren zonder alcohol. Het gedrag veranderd en wordt beïnvloed door de alcohol en dit kan leiden tot onder meer plichtsverzuim, verwaarlozing en ruzies.
Alcoholverslaving is de meest voorkomende vorm van verslaving en komt is alle lagen van de maatschappij voor. Omdat alcohol zo geaccepteerd is in de samenleving, is de grens tussen probleemdrinken en verslaving moeilijker te duiden. Vaak wordt de kans op verslaving onderschat. Het is een sluipende ziekte die tot lichamelijk en geestelijk verval leidt, met soms de dood als gevolg.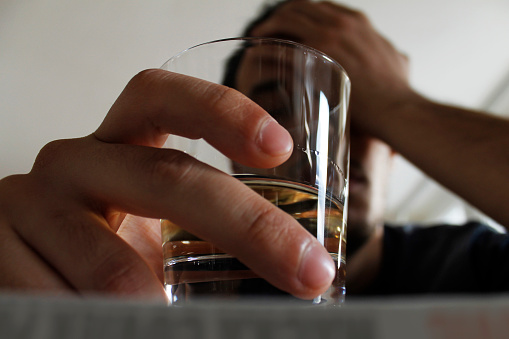 Oorzaken en kenmerken alcoholverslaving
Het is vaak zo dat de alcoholverslaving ontstaat door meerdere oorzaken. Eén van deze oorzaken is een erfelijke factor. Als er een verslaving in de familie voorkomt, heeft het kind een grotere kans om op latere leeftijd ook verslaafd te raken. Een andere oorzaak is de opvoeding: als kinderen groot worden gebracht in een omgeving waar veel gedronken wordt, is de drempel voor hen ook lager om te beginnen met drinken.
Daarnaast kunnen stress, depressiviteit, onzekerheid en sociale dwang een rol spelen bij het ontstaan van een alcoholverslaving. Er treedt ook tolerantie of gewenning op.
Wanneer is iemand alcoholverslaafd?
Er is sprake van een alcoholverslaving wanneer iemand meer drinkt dan de normale hoeveelheid alcoholische drank. Drink je dus meer dan 2 tot 3 alcoholconsumpties per dag of drink je 1 keer per week een grotere hoeveelheid (binge drinking) dan is er sprake van een verslaving.
Zoek jij of iemand anders hulp voor een alcoholverslaving? Neem dan contact op met CACN Verslavingszorg. Zij bieden graag de passende hulp die nodig is.